This Christmas, I decided to volunteer to help refugees on the Greek island of Lesvos. The question everyone asked: How can I help? I didn't know. Finding out was the main reason I was going.
I didn't really understand what was happening, to whom or why. On a macro-level I was aware of Syrians fleeing a devastating war. Of most European countries jostling to avoid settling them. Of Germany's standout commitment to accept more refugees than any other European country. Of America's minimal involvement as this humanitarian crisis became another way for presidential candidates to pontificate and pander to their base.
I wanted to know more. To meet and speak with the refugees risking their lives to come to Europe, to hear their stories and to become aware of the micro-level issues.
Over one million refugees arrived in Europe in 2015
The number of refugees crossing the Aegean Sea is staggering. In August, 130K; September, 160K; October, 220K; and November, 155K. In those 4 months alone, over 665K refugees arrived on European shores. In December, we would see another 115K. 
Half are from Syria, 20% from Afghanistan, close to 10% from Iraq. Another 4% are from Eritrea with 2% each from Pakistan, Nigeria and Somalia. Eighty-five percent of all refugees to Europe came through Turkey to Greece. Sixty percent of all refugees arrived on the Greek island of Lesvos. The rest go to other Greek islands, Italy and Malta. No one is sure why Lesvos receives the largest percentage of refugees but it seems smugglers' operations are least-thwarted along the stretch of Turkish coast facing Lesvos.
Before I left, I monitored volunteer communication channels: WhatsApp, Slack and, of course, Facebook. I watched WhatsApp messages in awe: GPS drop-pin locations of boat landings — one after another — a rush of volunteers to the sites, calls for a doctor and blankets, buses loaded with newly-arrived refugees, now headed to a camp. People exchanged real-time information about which volunteers and supplies were needed where. I read documentation compiled by other volunteers, any firsthand account I could find, and UNHCR (United Nations High Commission for Refugees) reports on facts, figures and policy.
Still, nothing can prepare you for the first night you brace yourself against frigid winds on a rocky shore, cradling a four month-old baby, swaddled and smiling at your soft coos. Her stunned young mother — seconds off a flimsy black dinghy that barely contained 50 people on a harrowing five-hour journey over the freezing Aegean — is already on the phone. ("My mother," she tells me.) 
Nothing prepared me for boats loaded with families and camps full of babies and children. So many children. As a mother of two small girls, it was easy to imagine my own family in this terrible situation. I could hear the questions my daughters would ask, the fears they would share.
Half of all Syrian refugees are under the age of 18; they make up 25% of the total refugee population arriving in Europe
In Lesvos, I joined two of my close friends, Masuda and Aziza Lila Sultan. The Afghan-American sisters crowdsourced funds to locally purchase urgently needed items (medicine, socks, blankets) and distribute to organizations directly making a difference to the health, safety and protection of the thousands of refugees who arrive weekly. They also brought bags full of medical donations for the clinics. We went straight to work. We spoke with refugees when they landed on the shores and after they were installed in the camps. We visited the different camps (Moria, Kara Tepe, Pipka, Lighthouse, No Border Kitchen) and spoke with the volunteers and organizers there. We met with groups that provided badly-needed services across all camps. We did overnight and early morning boat patrols, our car trunk packed with emergency blankets, sandwiches and hand warmers to distribute when a boat arrived on shore. We dropped in on coordination meetings run by UNHCR. We heard and saw the many different angles and points of view on this crisis. We also kept seeing Susan Sarandon, who's doing wonderful work chronicling the refugee crisis for the American media.
---
How can you help?  From what I have seen, I recommend these places for your donations. This is where your generosity will have immediate impact.
1. Better days for Moria (Camp Moria)
How to contribute: Bank account
ACCOUNT NUMBER: 61-792576-2
IBAN: CH26 0900 0000 6179 2576 2
BIC: POFICHBEXXX
Address: Stauffacherstasse 102, 8004 Zurich, Switzerland
"Moria is the largest registration point and transit camp for refugees arriving on the island of Lesvos, Greece from Turkey. Due to migration patterns and the registration process, Moria's population can fluctuate dramatically from 500 to 8000. The official camp can facilitate 750 refugees." – Betterdaysformoria.com
After landing on the island, refugees come to Camp Moria to get a dated ticket from Greek police. Refugees must register here when their ticket date is called, currently a 3-4 day wait. Once registered, they are permitted to go to Athens and continue their journey up the Balkan route to their final destination: Most hope to reach Germany.
Camp Moria has some temporary housing structures, grossly insufficient for the number of refugees. Families and individuals overflow into tents or sleep on cardboard and blankets in the open air. We found many families with small children sleeping outside. This was heartbreaking without the rain and sub-zero temperatures that they're facing in Lesvos today.
Within Camp Moria, there is a Family Compound reserved for families with small children, pregnant women and the elderly. I worked here two evenings. The supervision of this area is being transitioned from one large NGO to another. I can't say what the previous NGO did right, but there is a very long list of what they did wrong: exposed barbed wire at child height, unsanitary baby formula storage and prep, no baby bottles (bottle-fed infants went hungry that night), insufficient food for inhabitants, families sleeping on cement floors, empty fire extinguishers, no reliable medical presence… and the list goes on. A few independent volunteers are making enormous efforts to turn things around and provide a healthy and safe environment for families with infants and small children. They need a lot of help right now.
2. Camp Moria's Kitchen 
How to contribute: Paypal link on their site
They make sure there are warm meals for the refugees in Camp Moria. They also sponsor the tea tent that serves hot tea all day long. If it sounds like a luxury, it's not. Temperatures have fallen below freezing and there is no heating in the tents. Warm food and hot tea is a big deal. These guys make a huge difference every single day.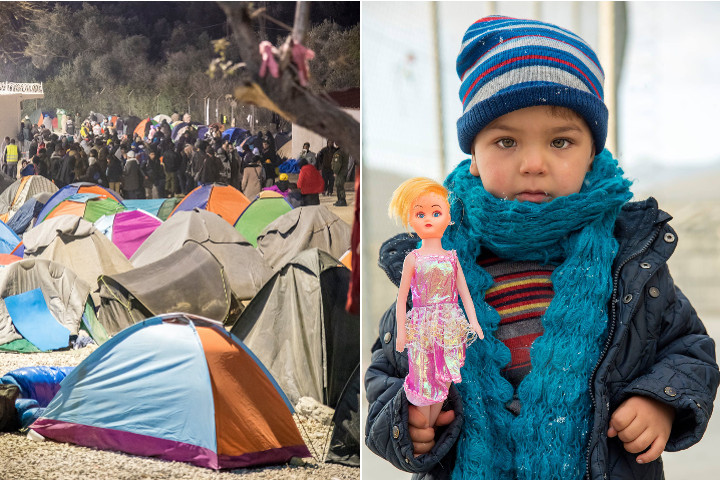 3. Proem-Aid, Spanish Firefighter Life Guards
How to contribute: Bank account on their Facebook page
Proem-Aid are a team of Spanish firefighters and divers who rescue boats stranded on the Aegean Sea. When a dinghy is in distress — engine failure, no fuel, loss of air pressure — these men sail out and bring them safely to shore. I've seen them do it a number of times, day and night.
They arrived in Lesvos at the start of December and plan to stay until they aren't any more boats to rescue. They drove down from Spain with their boat on a trailer. They are not paid and self-fund their operation. The firemen told me they are in the process of setting up a non-profit entity but until then, you can donate to the bank account on their Facebook page.
They are heroes, responsible for saving hundreds, perhaps thousands, of lives. And they need help to keep doing it.
4. Dirty Girls of Lesvos Island
How to contribute: Crowdfunding campaign
What Alison Terry-Evans is doing is so smart. Before Dirty Girls, dirty and wet clothes were simply being thrown away. Alison's small operation collects dirty clothes and has them washed, dried and delivered to the camps and warehouses to be reused. It is cheaper, faster and so much better for the environment to clean the clothes here on the island than throw them away and ship new ones from the mainland. I love this woman and what she's doing.
5. Solar puffs (Dr. Alison Thompson)
How to contribute: Crowdfunding campaign
Dr. Alison Thompson is a career humanitarian. She has been working on the ground in Lesvos for months. She started an initiative to provide solar-powered lamps for families stuck in the dark. Sunset in Lesvos is around 5pm and sunrise at 7:30am. After dark, the camp is pitch black and each light provides security. It allows parents to see their sleeping children inside their tent, to see each other, to walk safely to the camp bathrooms. What would you do without light? One lamp costs $15.
6. Lighthouse Relief (Skala Sikamineas on the North shore of Lesvos island)
How to contribute: Bank account or credit card payment via donation page
This base camp on the Northern shores of Lesvos is where a dedicated team of volunteers (from Sweden, UK and Norway) tirelessly meet and triage the refugees who land there. Skala Sikamineas on the northeastern coast of Lesvos suffers the highest influx of refugees per day yet lacks both sufficient infrastructure and financial resources. New arrivals are given medical attention, blankets, dry clothes, hot tea, food and shelter. There is a clean and well-organized medical tent for serious cases as well as a hypothermia recovery tent. Hypothermia is common and dangerous, but sickness and minor injuries can also be treated here before the hour-long bus trip to Camp Moria. Lighthouse Relief plans to stay until the emergency is over and they need all the help they can get.
7. Zoe Wild, Independent Volunteer
How to contribute: Crowdfunding campaign
I met Zoe in Camp Moria on our first day. Then on patrol on the South shores. Then I kept meeting her everywhere at all times of the day and night — I don't know when she sleeps. What impressed me most about Zoe was her unshakable calm. So I wasn't surprised to read this about her a few days later: Zoë is an ordained Sufi Interfaith Minister, has spent extended time as a Buddhist nun in Burma, and is trained as a Buddhist Chaplain. Of course she is.
Zoe is hands-on. She buys tents and sleeping bags, walks around Camp Moria in the black of night, talks to the many families sleeping on the cold, hard ground outside. Zoe pitches a tent and gives the family sleeping bags. She also gives money to families who've lost everything. Zoe gives refugees the most basic needs not otherwise available to them. She treats everyone with compassion and dignity, makes time to get to know these families, and shares their stories with the world.
8. Volunteers Coordination Agency (Camp Kara Tepe)
How to contribute: Bank account
VCA International: The Volunteer Coordination Agency
CIF: G57942567
Paseo del Borne 15 – 7E 07012 Palma de Mallorca
VCA is an NGO officially registered in Spain:
Bank: BBVA Palma de Mallorca
IBAN: ES03 0182 4901 38 0201549883
BIC/SWIFT: BBVAESMMXXX
This is a small NGO created for this crisis by French national Fred Morlet. Donations are applied toward hot dinners (lunch is provided by Oxfam), the purchase of blankets, socks and firewood for the camp inhabitants. They mainly take care of the Kara Tepe camp, which is exclusively for Syrian refugees. They are doing an excellent job and are dependent on donations to continue.
9. Camp Pipka
How to contribute: Bank account
Account name: NAN
Account address: Kominaki 30 Mytilini 81100
Bank: National Bank of Greece
Bank address: Kountourgioti 77 Myitilini 81100
Account number/ ΑΡΙΘΜΟΣ: 762/00126290
ΙΒΑΝ: GR5301107620000076200126290 SWIFT (BIC) ETHNGRAA
Tax code/ ΑΦΜ: 997256502
I haven't visited this camp personally, but by all accounts, it is very well-run and efficient. This camp is where refugees deemed most vulnerable stay until their registration is processed. Camp Pipka provides food, shelter and safety. Their kitchen also prepares and packages hot dinners for delivery to the Family Compound in Camp Moria.
10. No Borders Kitchen
How to contribute: Crowdfunding Campaign
A German-based group started this camp to provide tent shelters, clean clothes, warm meals and hot tea to people not eligible for refugee status in Europe (e.g., Moroccans, Algerians and Tunisians). Because people from these countries are considered illegal immigrants and not refugees, NBK is the only group providing for their basic needs. This one may be somewhat controversial, but there is desperation and despair here being treated with care and kindness by NBK. The volunteers sleep in the tent camp with the other inhabitants and share duties together in the kitchen and around the camp. They really have earned my respect.
The following message is posted in English and Arabic on the side of their main tent:
"Hello and welcome. You are now in a self-organized solidarity camp. Everyone regardless of nationality, language or religion is welcome. We create this space together and invite you to create it with us. There is no organization behind us. We are all private people, volunteers, political activists, using private money to support different needs we have."
---
If you are interested in volunteering, these resources will provide you with helpful information and contacts:  Information Point for Lesvos Volunteers, Are You Syrious and the UNHCR Emergency Response dashboard.