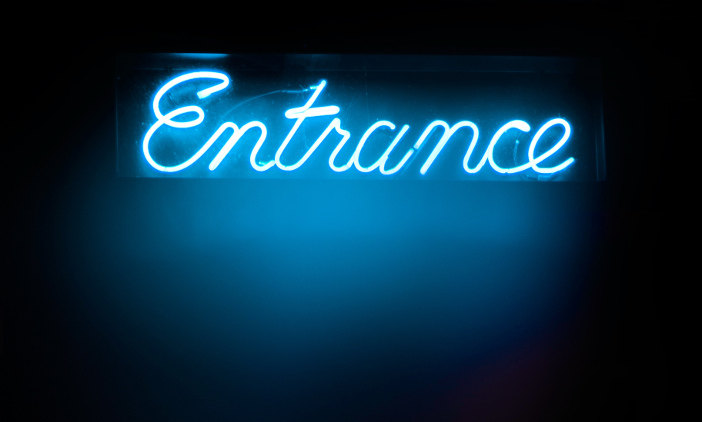 The round bed could accommodate any configuration of a dozen people, its red vinyl covering cool and tacky against my knees and the palms of my hands. Every piece of furniture was fitted with vinyl. It was a sex club; think of the cleanup. Deb had convinced the three Lebanese brothers who owned the place—Tony, Ray and Joey—to line up and spank me. "I'm her fluffer," she said cheerfully to anyone in earshot. Tina, entwined with her boyfriend next to us, answered, "Director, more like." Ling watched from across the room on the other plastic bed before skipping over to us. "That was too far away."
In wordless synchrony, each brother took off his shirt and had a turn slapping my ass. Tony, Ray and Joey were so sweet and respectful, they barely grazed me. Deb sat up impatiently, leaning over my back with her hand raised. "She can't feel that! You guys need to hit harder." She brought down her open palm, a sharp clap on my tender skin before ordering them to try again.
Another Friday night in one of France's five hundred sex clubs…
Qu'est-Ce Que C'est Un Sex Club?
Called club échangiste (swinger) or libertin, many are designated for the bored—or adventurous—couple. I've been to Les Chandelles, the famous swingers club Dominique Strauss-Kahn frequented, pre-sex scandal. (Because it's not scandalous to be a known sex club regular when you're a politician.
WTF?! Paris.) Dman and I went years ago and it was what you imagine a club libertin to be. Middle-aged couples in various states of undress, white-haired DSK-types enthusiastically pounding desultory young escorts, and everyone getting it on in one way or another. Us, too.
This time around, Deb was in Paris for a month and her list of things to do included visiting the Sacré-Coeur with her toddler boys and going to a sex club with me. I assume people think "Go to sex club with Maggie" is a viable Paris must-do—in between "Eat crêpes" and "See the Eiffel Tower"—only because I'm always ready to strap on my Nellie Bly stilettos in the service of journalism… right?
Because Deb and I aren't a hetero couple, we were limited to the few clubs that allow singles. There's a castle in Montmartre called Chateau des Lys, but on Friday they were doing a drag night that sounded kitschy rather than raunchy. I picked The We Club for its logistics: halfway between my house and Deb's Airbnb, free entry and open bar for single women, and decent Yelp reviews. If it was bad or boring, we could leave with little investment on our part. In comparison, a night at Les Chandelles can run up to €300 per couple.
Dress Codes & Crocs
Sex club attire for women is skirts, dresses and heels. No pants, ever. Deb and I argued for half an hour while she insisted that leggings weren't pants. She wore a skirt under protest and we met in front of the club around midnight.
Deb looked me over. "You look high-class."
"Like an escort?"
"Not cheap."
"Well thanks. Now let's do this."
Despite Deb's crocs, the doorman let us in and a dark-haired man with incomprehensible French took us on a top-to-bottom tour of the club after we checked in our purses, phones and coats. (It's mandatory.) Every floor was windowless and fairly narrow, with the requisite red velvet curtains and red lighting. They each featured a different sexual accoutrement. One had an alcove with a custom-fitted plastic bed and a porthole for voyeurs. Another had a leather-and-chains swing with ankle harnesses in front of a caged-in vinyl lounge area. Two floors each had two stripper poles on a dais, with mirrored walls on one side and chairs and tables on the other for spectators. One of these was the main bar area, where a vivid blonde in a square of fabric that barely covered her breasts and butt cheeks offered us shots. "Drinks are free for you beautiful ladies all night!" she said before she kissed me on the lips. She also facilitated introductions between the fresh meat (us) and their regulars like Thierry, a 50-something man who was far too friendly for our still-sober selves. Not to worry, we'll be seeing more all of Thierry later.
Are You Libertines?
The coarsely handsome Tony materialized, introducing himself as the owner and offering us a private tour of the upstairs VIP area. We climbed the steep stairs to the Red Room of Plastic Furnishings, which had shuttered windows and a jacuzzi, and grilled Tony about the sex club business. He and his younger brothers are dentists by day and yes, their mother knows about the club. It's a family business, he told us proudly. The monthly condom budget was a couple hundred euros (which seemed low to me). The weirdest shit he'd seen was when an S&M group rented out the space for the night, bringing their own accessories.
Tony grimaced. "That was rough stuff. I'm not into it. What about you two? Are you libertines?"
Deb asked, "What does that mean?"
He gestured to us both. "You get together?"
Deb lied, "Of course."
Tony turned to me and asked in French, "Should we all play together now?"
We'd met just 10 minutes earlier. I shook my head. "Maybe later."
Tony took the refusal in stride and led us back down to the bar. That's the thing with a sex club. It weirdly feels safer than a regular club because men know they aren't allowed to make unwelcome advances. There are rules of engagement and if a woman refuses, the man (who's paid €105 to be there) has to back off or get thrown out. Tony explained the reason single women get free entry and drinks is so they don't have to chat up a guy for alcohol. Feminism in action! I declined to point out the sexism of the skirt-and-heels dress code because this is France, land of contradiction, and—journalism tip!—you don't want to alienate your subject/the owner of the club.
Downstairs, my friends Ling, Tina and her boyfriend, Robert, had arrived. The club had filled up and Tony's cocker spaniel youngest brother, 20-year-old Joey, was happily being ordered around by Deb. (He had lost his virginity only three years before.) A note about the other patrons: On a scale of hot or not, there was a lot of not. Though it's flattering, it's not particularly thrilling when you, your friends and the professional strippers are the best-looking people in the place. Three attractive women did show up as we were leaving. The prettiest said to me, "The women are hotter than the men here, non?" Oui.
This is where I'm going to disappoint you, Dear Reader, because I started drinking straight whiskey at this point (the cocktails are never good in a sex club). There's a steep downward trajectory to my powers of observation… plus, a girl's gotta live the libertine experience.
A few highlights:
We got another tour of the VIP room by all three brothers, which is when the aforementioned spanking happened. We don't know why they all took off their shirts.
Basic bitch kissing by several of the ladies
Ditto twerking on the stripper poles
A sluggish foursome between an ample woman and three men, including the affable Thierry. We first watched through the porthole and it was strangely erotic to see all that flesh in action, but when we got closer—about a foot away—it was less appealing. Fifteen silent minutes and no orgasms later, everyone got up and got dressed. Thierry's smile was sheepish when he saw us see him.
Some skeevy dude felt up my ass while we were watching the foursome. (So much for the rules of engagement.) I pushed his hand away, saying, "Non, merci." Still pissed at myself about the "merci" and that I didn't knee him in the nuts.
Overall, it was a PG-13 night that felt more playful than illicit. I've had seedier escapades in regular clubs. Tony told us Saturdays were more happening, but we had innocuous, giggly fun and Deb got to cross one more thing off her Paris bucket list. We all agreed it was something we'd try again.
Four hundred ninety-eight to go…
Address:
The We Club
83 rue Quincampoix
Paris 75003
---
Have you ever been to a sex club? Would you? Tell us here or over on Facebook, Instagram and Twitter. And sign up for our newsletter for the best book picks, sex stories and beauty secrets.