Hot Hotels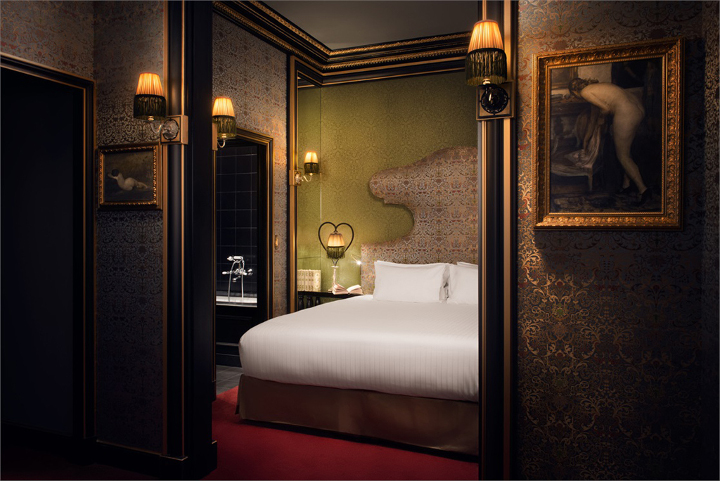 Maison Souquet
A pleasure house during the Belle Époque, the hotel has recaptured the opulence and sensuality of the era. Think red velvet, a private swimming pool and a secret garden. The sexiest hotel in Paris right now. (Order the Belle Otero at the plush bar-library.)
10, rue de Bruxelles, 75009
Les Bains
Recently reopened, this legendary (and notoriously difficult-to-get-into) nightclub is now a trendy 5-star hotel. A stay there ensures a spot at their see-and-be-seen restaurant, bar and club. For Valentine's, they're offering a special package that includes dinner, champagne, flowers, a love box and a very late checkout of 16h.
7, rue du Bourg l'Abbé, 75003
Hotel Banke
The sumptuous 5-star hotel near Opéra is lavishly Neo-Baroque with an extensive ethnic art collection on display. Try the Stay & Pleasure package which includes champagne, chocolate-covered strawberries and a Lily Blossom Intimate Pleasure box.
20, rue la Fayette, 75009
The One by the Five
A six-room private suite hotel designed for lovers and "the exploration of the five senses." They have floating beds and a Love Elixir.
3, rue Flatters, 75005
Image via Maison Souquet
---
Naughty Shopping
Mise en Cage
A by-appointment-only boutique with couture lingerie, luxury latex designs, erotic curiosities and boudoir accessories. Shop creator Florence Abelian's motto is sensuality and chic eroticism.
For an appointment: contact@misencage.com or +33 1 45 54 51 32
31, Avenue Felix Faure, 75015
Maison Ernest
The Crazy Horse dancers don't wear much besides titillating heels. This is where you can score your own pair.
75, Boulevard de Clichy, 75009
État Libre d'Orange
Their perfumes evoke blood, sweat and, yes, sperm with names like Magnificent Secretions, Hotel Whores and Eau de Protection.
69, rue des Archives, 75003
Boutique Demonia
A self-proclaimed temple to fetish and BDSM whose annual event in June, Nuit Demonia, draws the original 50 Shades crowd.
22, Avenue Jean Aicard, 75011
Phylea
A Paris institution with the kind of haute-couture kink you'd see on Gaga or Beyoncé's stage.
61, rue Quincampoix, 75004
Concorde Art Gallery
A 300m2 space showcasing erotic art by contemporary painters, sculptors and photographers. It's right above the Concorde Love Store, the everyman sex emporium.
179, Boulevard Lefebvre, 75015
Passage du Desir
For basic bitches who need a new Rabbit. Passage is bright, spacious and well-stocked with mainstream erotic goodies.
17, rue Pierre Lescot & 22, rue du Pont Neuf, 75001
11, rue Saint Martin & 23, rue Ste Croix de la Bretonnerie, 75004
Image via Mise en Cage
---
Sexy Shows
Crazy Horse
Of the famous Paris cabarets, this is the chicest and sexiest. Dita Von Teese performs in March for the 10-year anniversary of her first show there.
12, Avenue George V, 75008
Le Pigalle
Burlesque evenings in their boudoir-lounge showcases underground stars like Demoiselle M and Pretty Propaganda.
22, Boulevard de Clichy, 75018
Secret Square
Combine your food and sex fantasies at this cabaret where a lap dance comes with the cheese course.
27, Avenue des Ternes, 75017
Au Bonheur des Dames
Every Thursday night, it's women only until 10:30 pm (when men are allowed). Buffet, open bar and a male burlesque show are free—if you can get past the doorman.
To reserve: contact@bonheur-des-dames.com or +336 21 70 52 56
40, rue du Colisée, 75008
Image via Crazy Horse
---
Get Your Kink On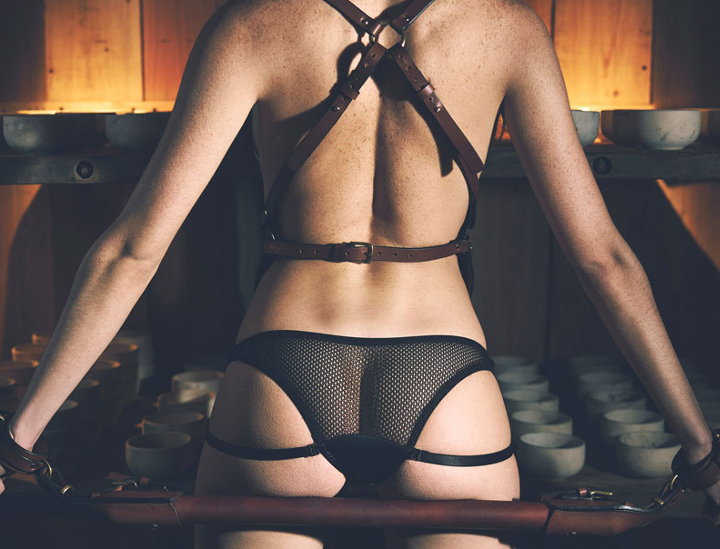 Les Chandelles
Famous for being one of DSK's preferred libertine clubs. Go to watch or participate, but dress up if you don't want to get turned away at the door.
1, rue Thérèse, 75001
The We Club
This 10-floor building with a private roof deck caters to the international swingers crowd. Certain apartments can be rented hourly for groups.
83, rue Quincampoix, 75003
Le Mask
Exclusively for couples, the chic club has an "Eyes Wide Shut" vibe that attracts the Paris celeb set. Masks not obligatory but encouraged.
18, rue Feydeau, 75002
Cris et Chuchotements
When pain is your pleasure: whips, wax, riding crops, handcuffs and human cages. Plus, a candle-lit vaulted stone dungeon and BDSM playrooms. Strict dress code, disobedience will be punished.
9, rue Truffaut, 75017
Image via Mise en Cage
---
Naughty Paris on Libertine Etiquette
The secret to a positive experience is a relaxed attitude and a sense of humor. Sexuality is encouraged but never required.
Some couples go to have fun with each other, not to mix with others.
A soft caress on the arm usually constitutes a pass. Caress back, or politely shake your head non.
After mingling at the bar or lounge, couples head to the back where they find dark rooms for two—or more. If at any time you're uncomfortable, you can always excuse yourself and return to the bar or dance floor where sexual escapades are discouraged.
Image via Mise en Cage