O
ne of the big mysteries of Paris playgrounds is "Where are the swings?" For reasons unknown, though we conjecture it has to do with safety regulations, very few Paris parks have swings aka
balançoires
. This is our list of parks that do. Plus ponies! Because if there's one thing kids love more than swings, it's ponies.
If we missed any parks with the elusive swings, please let us know in the comments!
---
Free Swings
Terrain d'Aventures
The new playground in refurbished Les Halles, Terrain d'Aventures (above) is one of Paris's coolest play areas and it's completely free. It's got sky-high globes for the kids to climb and two swings among its many awesome things—right under the shadow of St. Eustache. They even have reserved times during the week where you can drop off your 7-11 year olds for an hour of supervised fun sans parents! But check the opening hours because they change daily and seasonally.
32 rue Berger, 75001
Parc Floral
Located in the Bois de Vincennes, Parc Floral (as the name suggests) has some of the most gorgeous flower displays in Paris. With several free playgrounds for the kids—as well as paid attractions like mini golf—it has swings for babies and big kids and one of the highest (6m!) slides we've ever seen.
Route de la Pyramide, 75012
Jardin des Dunes et des Vents
One of ten jardins in the Parc de la Villette, the Jardin des Dunes et des Vents is a huge, free play area for kids up to 12 years old. It has undulating dunes, a ziplane, inflatable mattresses and swings! If that doesn't wear out your little ones, head over to the Jardin du Dragon for the famous giant dragon slide that's 25 meters long.
211 avenue Jean Jaurès, 75019
Jardin d'Acclimatation
This mini EuroDisney right in the Bois de Boulogne is amazing for so many reasons—games, rollercoasters, a water garden and a zoo—but it's also got the largest set of free swings in Paris. Ok, so it's not totally free (a single entry for kids 3+ is €3). But for a full day of fun, it's a bargain.
Bois de Boulogne, 75116
Parc de l'Ile St. Germain
A small park on an island just outside of Paris in Issey-les-Moulineaux, Parc de l'Ile St. Germain is intimate and special and has several spacious play areas for big and little kids, including a set of swings. This park feels like a sweet secret, hidden among the corporate buildings in the area.
170 quai de Stalingrad, 92130 Issy-les-Moulineaux
---
Pay Swings & Ponies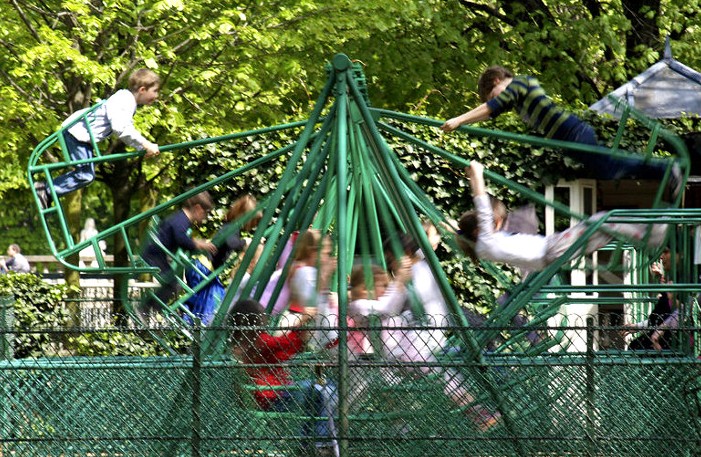 These swings are actually rides. Two kids sit facing each other in green metal swings and pull on a rope to go as high and fast as they can. Tickets are €1.50 per ride (less if you buy a pack of 10) and rides last around 5-10 minutes, depending on how many kids are waiting and how easygoing the ticket-taker is. Coincidentally (or not), most of the parks with pay swings also have carousels and pony rides. Keep your wallets open, parents—and have cash because they usually don't take credit cards.
Jardin du Luxembourg, 2 rue Auguste Comte, 75006
Parc Monceau, 35 blvd de Courcelles, 75008
Parc Montsouris, 2 rue Gazan, 75014
Parc George Brassens, 2 Place Jacques Marette, 75015
Jardin du Ranelagh, 1 Avenue Prudhon, 75016
Square des Batignolles, 147 Rue Cardinet, 75017
Parc des Buttes Chaumont, 1 Rue Botzaris, 75019
For the full list of pony parks, go to Animaponey, which seems to have the monopoly on providing cute little ponies for your cute Paris progeny.