As expats in Paris, we're in the enviable position of seeing French style up close, but we have to admit we don't always know how to pull off that "woke-up-like-this" look and still hang onto our New York edge.
We turned to two fashion experts — one French, one American — to sound off on the differences between these major fashion capitals. What gives Parisiennes their chic loucheness? Do New Yorkers really wear head-to-toe designer? And the ultimate question: Who looks best?
The Experts
Jessica Bousquet (left) is a Parisian photographer and the scion and archivist for Cacharel, the quintessential French brand that introduced the Liberty print to the world.
Alia Ahmed-Yahia (right) is the The Style Scout, an Elle style correspondent, and the host of the CBS Style Scouting podcast.
---
What are the main elements of Paris style?
JB: Parisian style has its own codes that adapt to the whims of the seasons and the evolution of fashion. It's always about that little something extra, but it's very subtle. A certain elegance, a small detail in the clothes, a mix of color and fabric that's very streamlined. There's also restraint. Maybe that's what really defines Parisian chic: modesty and reserve.
AAY: New Yorkers are forever talking about how to recreate French style.  To us, Parisian women have an innate ability to look incredibly sophisticated yet appear as if they spent no time getting dressed. Parisiennes have an unwritten code or uniform.  They've figured out what silhouettes work for their body and they don't deviate.  You don't notice a Parisian woman for her bold style, you notice her effortless beauty first.
And New York style?
AAY: New York City is home to some of the most stylish women in America. It's a safe environment for true self expression. (How chic that expression is can be open to interpretation!) In general, New York women care about keeping up with current trends.  Because of this, fashion is much more disposable.  We are constantly reinventing our closets, throwing out pieces that are no longer on-trend and keeping just a few investment pieces. American women define personal style as looking different from everyone else and feeling confident and comfortable in their own skin. "Chic" in America often refers to a bold, "notice me" look. When an American woman says another American woman is chic, it's usually because she is wearing something that others only dream of having the confidence to wear.
JB: New York is the city with the cool attitude that goes 100 miles an hour. They try anything and everything! There's such diversity and energy — at every level — and that's reflected in the fashion. New York style is much more varied and daring.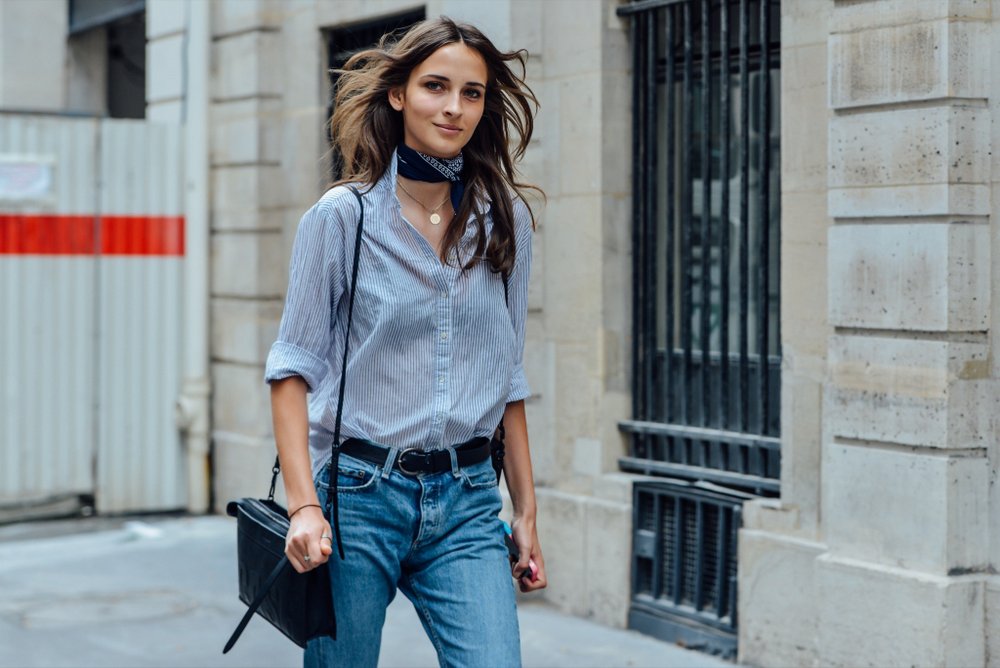 What are the biggest differences between Paris and New York style?
JB: Without a doubt, the Parisienne is more classic. She sticks with basics: Jeans, a black blazer, mocassins.  A turtleneck, a seersucker blouse, ballerina flats. A delicate floral-print dress. There's a mix of masculine and feminine and the cut of the clothes is often structured. Colors are more neutral. The Parisienne may be more understated but she always has a glamorous side.
The New Yorker is super urban and modern. The multiculturalism of the city makes every kind of style possible. For a Parisienne, walking in the streets of New York is a real pleasure. I've caught myself smiling just by seeing what people are wearing. The women in New York each have their own look. Being fashionable is good but having your own style is better and the Americans are great at that.
AAY: Style is integrated into French culture. Parisiennes everywhere are effortlessly stylish regardless of age, economic status or career. In America, fashion is an industry but not a history. New York City is the chicest city in the U.S. but even here you'll find a wide variety of personal style, including women who don't think about fashion at all.  For those who do, the references come largely from American celebrity. Popular bloggers and fashion magazines constantly push forward new trends and encourage American women to follow. Men may not understand but American women aspire to have their own sense of style and the confidence to experiment.
Parisian women have a look and they follow it.  They can (and do) buy more expensive pieces because the culture doesn't expect women to reinvent themselves every season.  The social expectation is quality over quantity. Parisiennes purchase less but own more designer than the average "stylish" American woman. There is a respect for design rooted in the history of the great French designers. Parisian women want to be stylish but not edgy and attention-getting because of an outlandish look. It's likely her look is equally as desirable to men as it is to other women.
Woman on the street: Who's chicer?
AAY: Parisian women! They're pulled together yet perfectly tousled with minimal hair and makeup.  When a New York woman looks chic, she is usually done up with the entire package: hair, nails, waxing, etc. There is a real, natural beauty that French culture appreciates. Americans tend to celebrate sexy and youthful.
JB: The Parisienne. She loves couture and the much more affordable ready-to-wear. She wears classics but makes them eye-catching by mixing colors, materials and prints. To me, the Parisienne has taste and elegance.
Who's a better street style star?
JB: When you're talking about street style or Fashion Week, it's all about the show. And it's no contest, the Americans are the best at it because they're so passionate about it. The styles are sometimes almost unwearable but they take risks and their looks are examined by everyone, including me.
AAY: If we're talking pure style I have to say New York. The street style stars exude creativity. Fashion Week has almost become more about the front row than the actual show.  Social media stars have the ability to get the designer's message out to their gigantic audiences instantly. With every passing New York Fashion Week, street style becomes more and more eccentric. With that comes incredible styling ideas and creativity.
What can a Parisienne do to look more like a New Yorker? And vice versa?
AAY: French women can take more fashion risks! Step outside the uniform. American women should invest in solid, well-tailored basics:  a great blazer, skinny jeans, leather pants, leather pumps and boots, the perfect slouchy t-shirt, a beautiful scarf, a designer black leather handbag.
JB: I can only speak to looking more like a Parisienne. Try well-cut jeans with ankle boots. A black coat with a beautiful scarf and gloves. A Chanel or Chloé bag. And always, always, a black Cacharel blazer!
Who's the most stylish New Yorker? Parisienne?
JB: I love Naomi Watts and the Olsen twins in New York. In Paris, Emmanuelle Alt and Caroline de Maigret.
AAY: New Yorkers: Blake Lively and Olivia Palermo. Parisiennes: Carine Roitfeld and Ines de la Fressange.