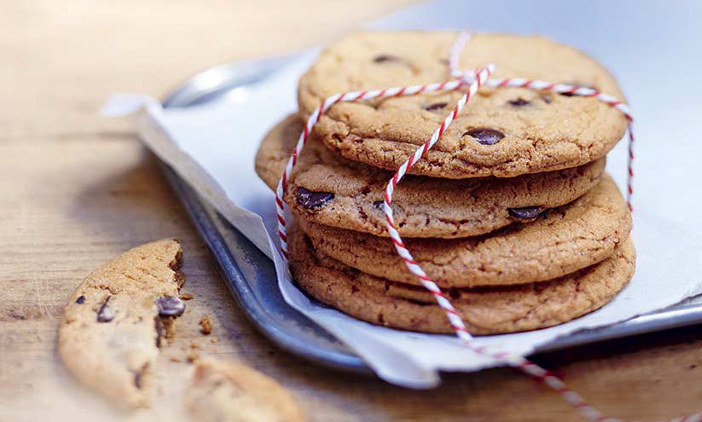 It starts with a quiet post on a Facebook expat page: "Picard* has special American foods 'til mid-March." Like moles in a violent carnival game, the expats pop up—and boy, are we excited. Mac n' cheese, enchilada bowls, cinnamon rolls, BBQ ribs and cookie dough? Yes, please, get in mah belly!
Sure, "Hello America" is a transparent ploy to prey on our nostalgia for the America we used to know. Because let's be honest, if I were still in New York, there's no way I'd drop €10 on frozen mac n' cheese no matter how much Oprah loves it. But I don't care! Because rainbow cake!
As a service to our fellow expats, Hadley and I have tasked ourselves with trying as much of "Hello America" as our wallets and waistbands will allow. (With additional commentary from other frozen foodie expats.) Here's the good, the disappointing and the holy shit, this is better than I remembered.
*Non-French residents: Picard is France's incredible frozen food emporium that no French cook (or non-cook) can live without.
---
In Store
Maggie: Yes! All of it! No, wait, I don't need a Burger Kit or crab cakes. And gross, a frozen hot dog? (At the cash register) These 8 things cost €70?
Hadley: Seeing the treasure trove of American goodies, I feel the uncontrollable urge to Snapchat all my friends. I go straight for the rainbow cake. Oh, you have to wait six hours for it to defrost? I'm in American mode: I want my guilty pleasures NOW. I grab some cookie dough instead. That can be enjoyed frozen, possibly on the walk back home. I take my haul to the register, where the cashier has been giving me side eye the entire time. "So THIS is the type of person who buys this crap," she thinks.
BBQ Ribs
Maggie: Our ribs are meaty enough but I wish there were more sauce. It has a decent flavor, but I want a drippy, 8-10 napkin mess. My four-year-old gobbles them down, "This is really good!" My husband's French side kicks in, "It's not like what you get in Harlem." Really, dude?
Rachael: Ribs were pretty good!! Not fall off the bone, but nice sweet and spicy flavor!
Emmy: Ribs—beurk! The sauce on the ribs is good, but there is no meat, seriously disappointed.
Mac n' Cheese
Hadley: I got this for my 3-year-old, who was born here and hasn't experienced enough American junk food. I got him all worked up about his special meal. "I like macaroni and cheese!!!" he squealed, even though he's never heard of it. Maybe I set the bar too high; he refused to try it. I finally convinced bribed him to take the teeniest bite. He yelled, "YUCK!" and threw 2€ worth of mac n' cheese on the floor. You know what? He's crazy. This mac n' cheese is delicious and I totally plan on stocking up for a rainy day, cost be damned.
Maggie: The mac n' cheese is awesome. The pasta is perfectly al dente and the cheese is sharp and velvety, with a touch of spice. Husband thinks it tastes like "airplane food" and he complains that it's penne, not macaroni! I decide he's a mac n' cheese rube and/or being a typical Frenchie because he eats half the portion despite his complaints.
Jennifer: We loved the flavor of the Mac and cheese, but it's greasy and a small portion. Plus, little kids might find the mac and cheese too tangy/sharp. Not impressed at all and super expensive for what you get.
Mac n' Cheese Croquettes
Sam: They're very bland. We pulled out American mustard, salt and pepper and they were much better. It needed hot sauce or something.
Hadley: I served these at my apero-dinatoire over the weekend. When I brought out a platter of croquettes, the Americans all rushed over. The French looked puzzled. While the croquettes are a bit bland, I wouldn't say no if I were offered another. My husband thought they were the best thing ever while another American commented, "These are just like America. Too big and full of too much cheese."
Chicken Fingers
Genevieve: My kids and I enjoyed the crispy chicken strips. Would you believe real chicken! Similar to KFC taste, but quite salty.
Hadley: KFC-style breaded chicken tenders, except they're filled with actual chicken meat. Delicious. My toddler ate part of one but seemed confused. ("This isn't chicken. That not be right.") Meanwhile, my husband ate all of his, all of our toddler's, and left immediately after lunch to go buy more. He's buried them deep in the freezer so only he can find them.
Crabcakes
Hadley:  I also served these at my apero-dinatoire. While I didn't try them myself, others told me they were greasy and meh. I threw most of them away at the end of the night.
Enchilada Bowl
Maggie: Four minutes in the microwave and the enchilada bowl is ready. The recommendation is 40 minutes in the oven, but who buys frozen food to wait? There are two blue corn tortillas with red bell peppers, corn kernels that are actually charred, everything smothered in cheese. I'm starving and it's delicious. Nicely flavored with a subtle smoky spice. I gobble it down in a few minutes and am still hungry. Should I heat the other one? I hold off because one tiny bowl is 500 calories! Good thing because less than an hour later, I'm in such a food coma from the salt, fat and preservatives that I have to take a cold shower and make myself a salad to snap out of it.
Sarah L.: I loved the enchilada bowl. Quite spicy but really nice complex flavor. I'm from Denver and we have a lot of good Mexican food. This was probably the best frozen Mexican food I've ever had. (This is made in the States and imported here.) Vegetarian and gluten-free for those who care about such things—not me!
Tania: I liked the enchilada bowl. Didn't find it very spicy and it didn't really taste like enchiladas to me… but I liked it! And I'm from Southern California.
Katie: OH HELLS YES!! I had the Enchiladas for lunch. Spicy cheesy perfection for my pregnancy cravings!!
Hot Dog
Sam: The hotdog was absolutely gross. Avoid at all costs. It had this indescribable mustard and sweet relish sauce on it—as if a blind person with no taste buds made it. It was hard to tell the bun apart from the cardboard it came in. My daughter's conclusion, "I'd rather eat courgette. At least I can hide the taste with sauce. This tastes like Sophie the Giraffe."
Pulled Pork
Sarah D.: The pulled pork was good. I heated in the oven as my microwave is broken. The sauce was tasty, meat was tender, veggies were crisp.
Cinnamon Bun
Tania: I was disappointed in the cinnamon roll. I didn't feel like there was enough cinnamon taste and they weren't moist enough for me. I'd rather eat the cinnamon roll at Starbucks and theirs isn't even that great.
Sam: We had the cinnamon buns this morning. Well, "had" is maybe a bit much. Hubby and daughter had one bite, said "Beurk!" and then ate an apple together instead. The buns are awful.
Coconut and Almond Milk Frozen Desserts
Maggie: The Key Lime Creme has a good coconut flavor and texture, but I don't really taste the lime. It also has chunks of cookie dough—bonus! The chocolate almond milk is disappointing because the chocolate flavor is really light. Otherwise, it tastes how frozen almond milk would taste. Both are nowhere near as creamy or decadent as real ice cream, but they're vegan and gluten-free so you do feel virtuous eating them.
Noa: I was pleasantly surprised by the key lime and disappointed by the chocolate almond. I'm way more of a chocolate-almond person than a coconut-lime person but the key lime is just a much better product. The texture and flavor of the chocolate-almond was like watered down chocolate milk, while the coconut-lime had a respectable ice cream texture, and was pleasingly lighter than dairy ice cream. The flavor was great too.
Cookie Dough
Hadley: I should have known to stay away from this. Raw cookie dough is my kryptonite. I was expecting it to taste like the Tollhouse cookie dough logs. It is so. much. better. I have no idea if it's any good once baked and I have no intention of finding out.
Maggie: The cookie dough! I got this on my second trip to the "Hello America" freezer and it completely lives up to the hype. I added some to the key lime dessert and it was amazing. Then I baked them with my son as a Wednesday afternoon activity. We split one right out of the oven—warm, chewy and like we're living an episode of Leave it to Beaver. It got me wondering, though, "Are Americans the only ones who eat raw cookie dough?" UPDATE: After they cooled, they turned more crispy (the fault of cane sugar instead of brown, apparently).
Rainbow Cake
Emmy: Rainbow cake is absolutely awesome—kids went wild! It's a silly splurge and French hubby said the whipped icing was better than the usual American toppings. But it takes 6 hours to thaw in fridge. So plan ahead, or store directly in fridge for use tomorrow.
Heather: It is colorful! The cake texture is light and fluffy and defrosts really nicely. I was afraid it would be mushy. The frosting is more like whipped cream flavor than a traditional sugary frosting we find in the US. Not bad.
Jennifer: We were all pleasantly surprised by the Rainbow Cake. It was light and the taste was pretty good, but the fun factor made it really a good buy. I wanted to hate it, but just couldn't. One little boy proclaimed it the best cake he had ever eaten. Not sure I would go that far, but the best of the [Hello America] lot for us.
Hello America is available until March 18 at Picard, online and in stores.
---
 What did you think of Picard's Hello America? Leave you reviews here or let us know on Facebook, Instagram and Twitter. And sign up for our newsletter for all the latest news and reviews about expat life.