It's haunting season, but here at LES LOLOS HQ, we're not the biggest fans of horror—and neither, apparently, are the French. Besides a wave of "New French Extremism" movies (extreme horror to taboo-breaking sexual decadence) in the early aughties, France isn't really known for its slashers and definitely doesn't churn out horror films like they do in the States.
If you're staying in this spooky weekend and looking for a movie to get you in the Halloween spirit, the following are widely available. We asked some friends who actually like getting their gore on for their favorites—plus added a few thrillers we like.
---
Ils/Them, 2006
A couple is trapped indoors by hooded people who cut their phone lines and terrorize them all night. You helplessly watch their fate unfold—and it's not pretty. I hate this sort of get-in-your-head gory thriller as it won't ever get out of my head! From what I hear, it is a masterpiece of the genre and a "must-see" for any horror fan. I did accidentally sit through the American film, The Strangers, with Liv Tyler and Scott Speedman. Considered to be an unofficial remake of Ils, it scared the shit out of me.
---
Haute Tension/High Tension, 2003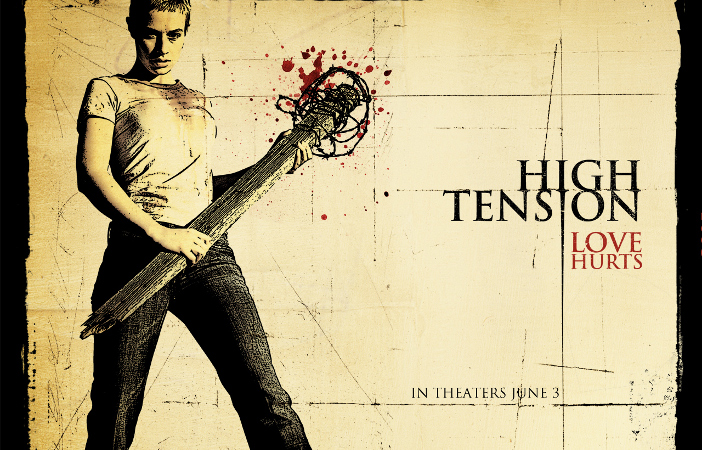 With now-headliners like Cecile de France and Maïwenn, this tense slasher flick is all about guts, gore and edge-of-your-seat action. It was a hit in France and even did well in the US. Over the course of an evening, two best friends are at home when a knife-happy killer breaks in and proceeds to torture and frighten them. He kidnaps one and leaves the other girl to try to save her. The film is a bloody homage to the original slasher movies of the '70s and it doesn't disappoint.
---
Caché/Hidden, 2005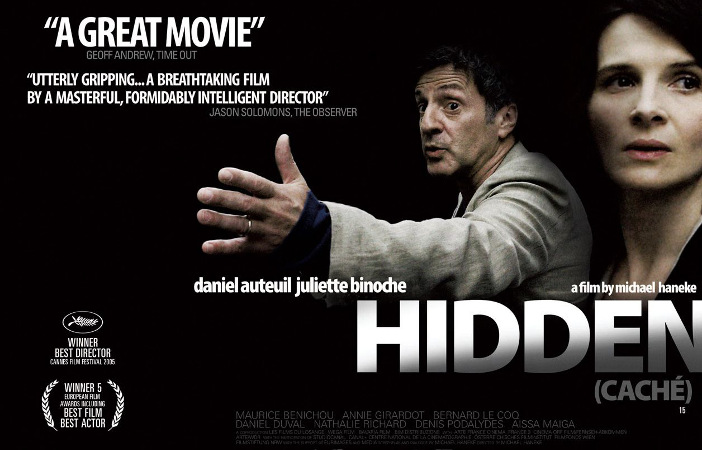 This psychological thriller, for which Michael Hanneke won Best Director at Cannes, is the polar opposite of a standard box-office thriller. Hanneke is a master at getting the audience to question their assumptions. Caché is superb and will leave you wondering about your own prejudices. Don't expect to feel satisfied at the end in an "all the ends are tied up" kind of way. It's not that kind of film.
Georges (Daniel Auteuil) and Anna (Juliette Binoche) anonymously receive hours-long video tapes of their comings and goings at home. The tapes get more frequent and more detailed and they go to the police in fear for their safety and that of their son. Georges, seemingly with a guilty conscience, tries to take things into his own hands. We have no idea what's going on, or why, for most of the film but the nuances and references are very clever. Tension is built through bleak, (very) long, silent takes and general discomfort. You're unsure if it's George's paranoia or your own you're feeling. Think of it as part thriller, part voyeurism and part social commentary. The leads give cool, subtle performances as educated bourgeoisie for whom manipulation and truth are core themes at home, in work and in society. Some may find this film disturbing, but it's well worth watching.
---
Ne Le Dis à Personne/Tell No One, 2006
Don't multitask while watching this film. If you take your eye off the ball for a second, you'll get confused! We meet Alexandre (François Cluzet) just before the eight-year anniversary of his wife Margot's murder by a serial killer. Two bodies discovered near the old murder scene lead the investigation to be reopened by the police—with Alexandre as the prime suspect. Simultaneously, he receives an email which implies his wife is still alive.
So begins this game of cat and mouse where no character should be underestimated and Alexandre has either been framed, is lying or something else entirely. I loved the attention to detail and the many "what the hell is going on?" moments that I experienced throughout! (There is one scene towards the end that lets the film down a little—you'll know immediately which one.) This is the kind of movie we're used to seeing in an American setting, instead of in and around Paris. It's a riveting couple of hours' entertainment if you want to avoid the gore this Halloween.
---
What's your favorite scary movie? Or are you like us and prefer to live in a world without gore?? Tell us about it in the comments or at Facebook, Instagram and Twitter. And don't forget to sign up for our newsletter for the latest in French culture, expat life and the best of Paris.