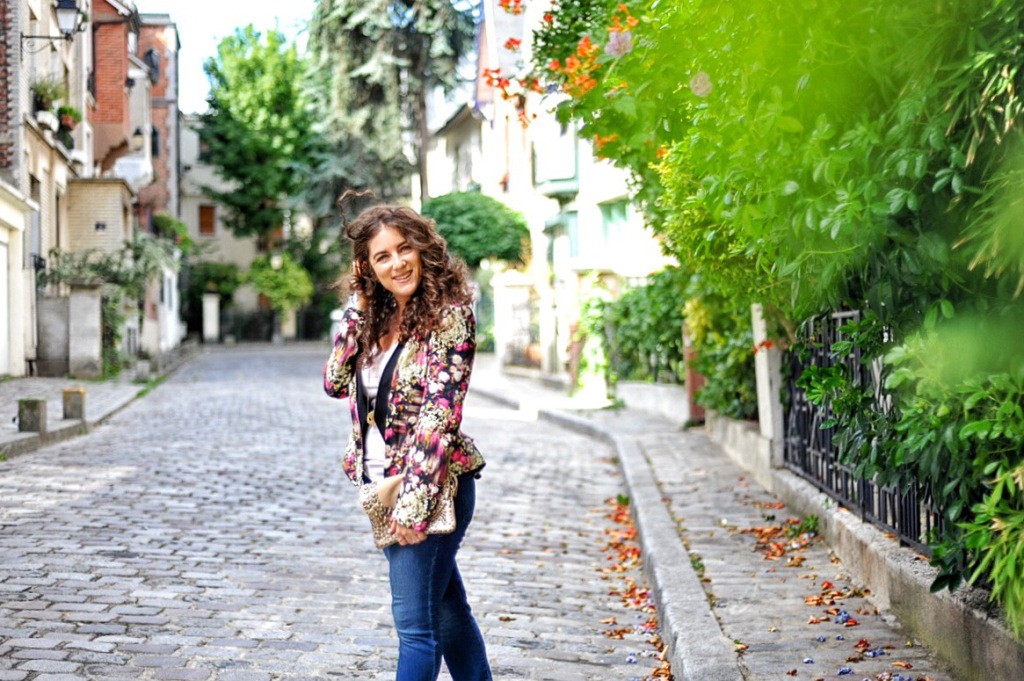 From Renoir to Amelie, the Montmartre residents who came before me — real and fictional — were inspiring creatives who drew from the arrondissement's village-like feel: Its staircases up to what seems like heaven; its terraces dripping with flora; its narrow passages that often offer a peek at the superb Sacré Coeur. It's no wonder that as a writer, I wound up here last January after a month-long quest for a new home — despite not including the 18th arrondissement in my initial search. I was immediately in awe of my surroundings and influenced by my senses, be it via taste, sight or smell.
It's as if Montmartre found me.
While I've only called 75018 home for a little over six months, I've gotten to know the area well since I usually work from my cozy fourth floor studio. You'll often find me taking a break in search of tartine toppings (ie. avocados ripe enough to smash into toast or fromage creamy enough to spread onto a baguette) or quality coffee that I can linger over — as opposed to the quick hit of sludge that many of the classic cafés continue to offer up. (What can I say, I am American! I like my java loooong.) 
As a devout foodie, I'm thankful for the area's many inclines and steps that help keep me somewhat slender. French women may not get fat, but American women in France with a soft spot for chèvre do! Still, I say indulge. C'est la belle vie!
Here's where I enjoy the good life in and around Montmartre.
---

FOR CASUAL FOOD "SUR PLACE"
Soul Kitchen
33 Rue Lamarck
This is my favorite place for a light lunch, a morning coffee or an afternoon of working somewhere other than my apartment. I'm there at least once a week. Check their blackboard menu daily because it's always different. The only constant is their super reasonable formule (€13.50) that includes a salad, plat and dessert in a friendly, boho chic atmosphere. Bonus: They often have vegetarian and even vegan dishes.
---

FOR CASUAL FOOD "A EMPORTER"
Bululu Arepa
20 Rue de la Fontaine du But
"Have you been to that arepa place?" It's the one question I'm always asked when I tell people where I live. I have, indeed, been to the arepa place — many times. Aside from the fact that finding Venezuelan flavors in Paris is rare, this spot is open all day — to eat in or take out. I love the one with saucisse, avocado and fried plantains.
---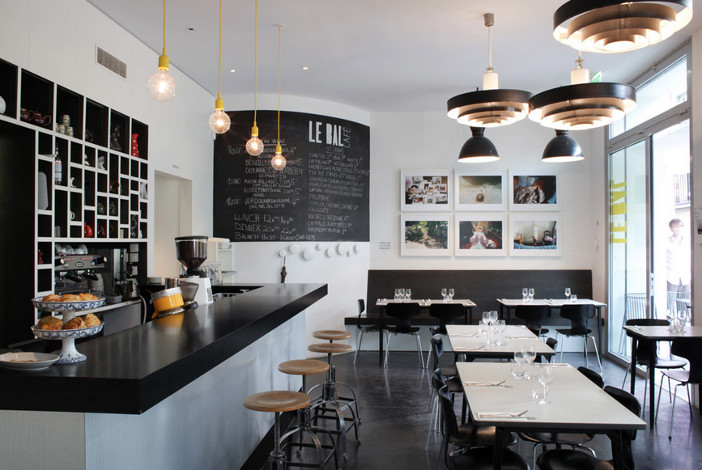 FOR QUALITY COFFEE
Le Bal Café
6 Impasse de la Défense
This sweet spot down a petit passage off Place de Clichy serves legit coffee, British-inspired cakes and a serious Sunday brunch. Go classic and get a typical English breakie or classy with a scramble of eggs and smoked cod. It's part of a very cool arts center so there are always exhibits and events worth checking out.
---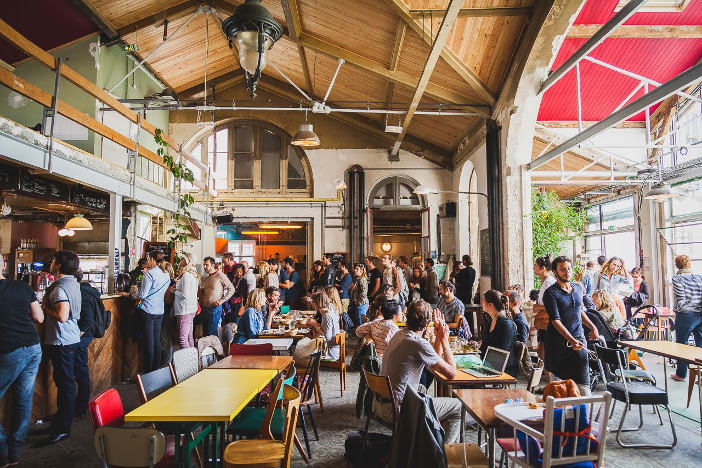 TO EAT, PLAY AND WORK
La Recyclerie
83 Boulevard Ornano
Discovering this place was like discovering Wonderland — with chickens! It's a huge, open food hall of sorts with an outdoor area that has communal picnic tables, a chicken coop and an herb garden, which provide ingredients for artisanal (and organic) bites and fresh cocktails. It's a good spot to work, take a yoga class, have a late afternoon beer with a charcuterie plate, or even shop when they've got their designer market on.
---
FOR YOUR BAGUETTE BUSINESS
Gontran Cherrier
22 Rue Caulaincourt
There's no shortage of "Best Baguette"-winning boulangeries in the 18th. When I moved to the quartier, I spent my first few weeks sampling each one before deciding on my go-to. My favorite is Gontran Cherrier — and not just because Gontran himself is a total hunk (aka Paris' "Sexiest Baker"). His baguettes are almost always warm, never too flaky and last well beyond their 4-hour shelf-life. I also love their nut loafs with cranberries and dried figs.
---
FOR A CLASSIC FRENCH MEAL
Le Grand 8
8 Rue Lamarck
I'm not usually a repeat offender when it comes to dining out; there are just too many spots to try in Paris! But this French bistro right next to Sacré Coeur has appropriately stolen my sacred heart. It's where I take visiting friends or family who want something "classically French." The service is friendly and warm, the menu is hearty and delicious, and the view of the city is top-notch. (Book ahead for a seat by the window.)
---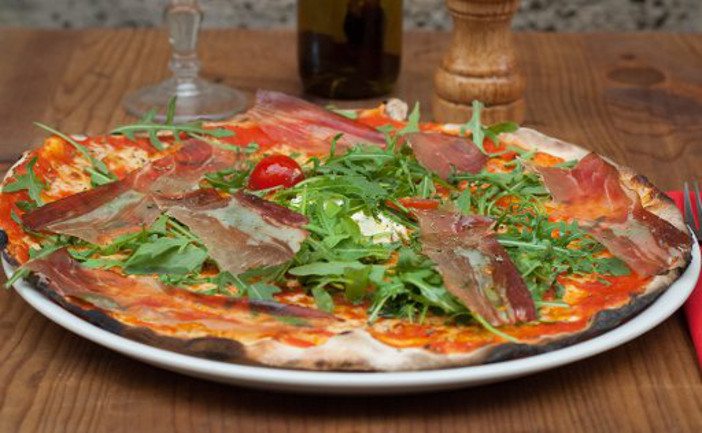 FOR A TASTE OF NYC
Il Brigante
14 Rue du Ruisseau
It's no Joe's Pizza — where I go for a stellar slice back in Manhattan— but this tiny spot bakes up individual pies with serious cheesy-saucy goodness. There are only a few tables, including two or three outside, so go early or late for a guaranteed seat. And don't even think about sharing one pie. As I always say when it comes to slices: one is a snack, two is a meal. Same goes for personal pizzas, especially at dinnertime.
---
FOR A TASTE OF AMERICA
Le Ruisseau
65 Rue du Ruisseau
Sometimes, a girl just wants a juicy patty of ground meat in a fluffy bun. At this hip spot off Rue Ordener, I always get a trio of sliders so I can try a few of the tasty burgers with clever toppings — and not feel totally gluttonous after.
---
FOR FUNKY SHOPPING
Homies
8 Rue des Abbesses
There's a ton of predictable French "high street" stores on this block, like Maje and Sandro, but I like ducking into small, indie shops like Homies where French-designed items — with color and patterns and detail— are sold for a fraction of the price.
---
FOR SOME HISTORY AND CULTURE
Musée de Montmartre
12-14 Rue Cortot
Despite all the signs and arrows pointing tourists towards this former home of Renoir, it's always quiet and serene inside. The museum details the history of the quartier and its famous landmarks like the Moulin Rouge. I came across it the day I signed the lease on my apartment and was filled with so much joy when I learned of all the artistry—from Tolouse Lautrec to Van Gogh—that filled the streets of my new arrondissement. Make sure to get the audio guide as you wander slowly through the grounds, which include a vineyard and artist's studio. Oh, and look for the resident chat noir.
Photo of Sara by Krystal Kenney