I was at Zara today and after negotiating with the attendant to try on 10 items (the limit being 6—yes, I'm one of those horrible women who hog dressing rooms), I came to a few conclusions:
There is such a thing as age/body-appropriate dressing
Exhibit A: Off-the-shoulder, cropped floral tops do not look good on mothers-of-two in their forties who aren't J.Lo (AKA me)
Exhibit B: Neither do rompers with belly cutouts (WHAT WAS I THINKING?)
Exhibit C: Put down the horizontal-striped knit tube top (FFS, woman!)
If all else fails, buy shoes
Though I like to think I (still, ever?) looked like this…
The Zara mirrors clearly had some sobering truths to tell me.
However, that gorgeous woman (model and blogger Nada Adellè) and I have something in common besides those sunglasses and our penchant for camel toe…
We both love bodysuits!
I've dedicated an entire drawer to a set of bodysuits that I can rotate throughout the spring and summer—and the various stages of belly: ramen belly, taco belly, pizza belly, etc. I'm a pretty lazy dresser, so the simplicity, versatility and Spanx-like properties of a bodysuit make this the ideal garment for me. And my belly.
Zara and Reformation have the strongest bodysuit game right now. Here are a few of my favorites:
The lace-up that launched a thousand bloggers' most-liked IG photos. Avalon by Reformation, $78.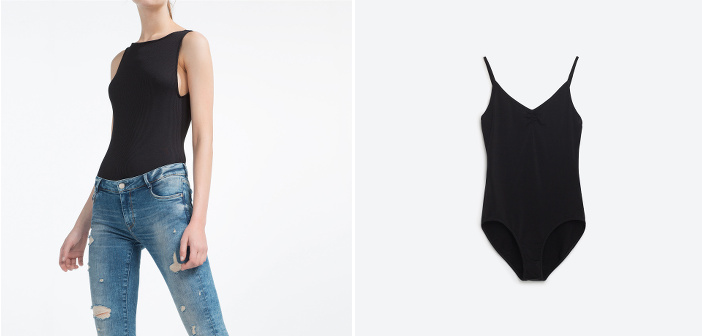 Go-with-everything black bodysuits by Zara, €13-15.
Love the color, the low-cut front and the off-duty ballerina vibe. Bella by Reformation, $78.
My photo-op bodysuit by Zara, €30. I'm not ashamed to admit I've worn this to at least three events so far.
What's not to love about a bodysuit? (Maybe that bit about the Kardashians starting the trend, but if anyone knows about holding in the jiggly bits, it's the Kardashians.)
Frankly, I consider it my superhero costume… so suit up, ladies!
Images via Nada Adellè, Reformation, Zara, Canal+
---
Do you own a bodysuit? Does this article convince you to try one? Tell us why or why not in the comments or talk to us on Facebook—and please like our page and sign up for our newsletter if you enjoy our stories!