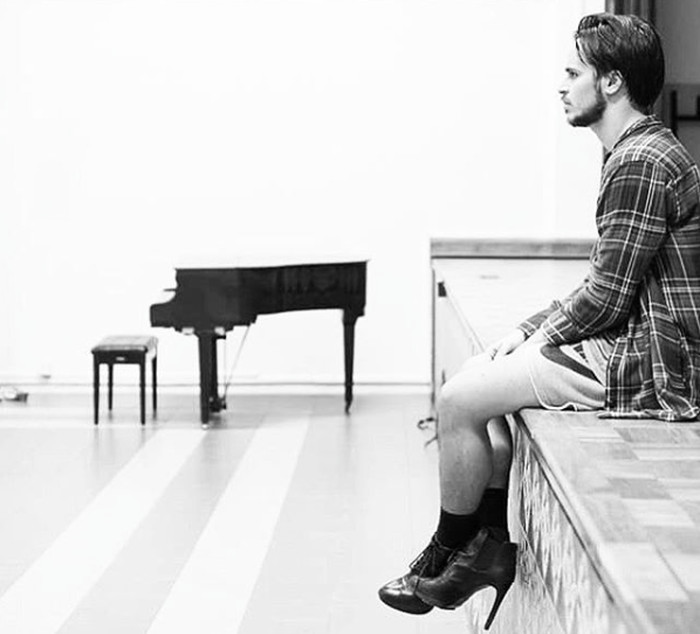 There are two distinct moments in your YouTube viewing life: Before Yanis Marshall and After Yanis Marshall. The 26-year-old dancer-choreographer-viral sensation upends traditional notions of dance, rejiggering the boundaries of gender and performance in his wicked black stilettos. He and his two backup dancers made it to the Britain's Got Talent finals, prompting even Simon Cowell's begrudging acknowledgement of their fabulosity. Last year, he was tapped to choreograph Cirque du Soleil's Las Vegas show, Zumanity. To watch Yanis working his intricate choreography in ankle-twisting heels is sheer pleasure.
Fellow expat Sarah Donnelly and I bonded over our Yanis fangirldom and decided to take his class together. I bowed out after 10 minutes because I dance far better in my mind than in my actual body. Plus, Yanis is conservatory-teacher scary. He screams, he stomps (in heels), if he had a whip, he'd probably use it. Coward that I am, I took pictures. Still, he yelled at me not to take a photo of him on his hands and knees as he demonstrated bad toe form: Point! Don't flex!
But the Yanis I met after class was direct, refreshingly honest and humble. He's compact and gorgeous in person and buzzes with energy, despite a gruelling travel and teaching schedule. (That night alone, he taught back-to-back 90-minute classes.) He's also perfectly English-French bilingual and made the interview process so much easier for me. Merci, Yanis!