We've all been there: A movie comes out, everyone raves, Oscars are mentioned (perhaps won) and it's hard not to roll our eyes, "As if." Double the cynicism when it's a foreign film. Triple when it's French!
That said, there are French films that live up to the hype and are worth a first-time or repeat viewing. These are four of our favorites. What are yours?
Le Fabuleux Destin d'Amélie Poulain, 2001 (Amélie)
One of the most loved and instantly recognizable French films of the past 20 years, Amélie remains a pleasure for the senses 15 years on. Paris is portrayed in all its glory and the characters and caricatures are fun, colorful and quirky.
The well meaning, if meddlesome, Amélie overcomes her fears of living her hitherto sheltered life to the full when she starts helping others live theirs. The clever script is well-developed and the narration, editing and rich primary hues bring the story to life. The soundtrack – light, melodic, intrinsically French music with piano and accordion — is the perfect accompaniment to this charming slice of Parisian life.
It was a career-defining role for Audrey Tatou; she is powerful in her simplicity as the wide-eyed Amélie. Fun fact: Her love interest is played by Matthieu Kassowitz, who directed La Haine. The dialogue is fast and sometimes clipped so I would recommend subtitles.
Intouchables, 2011 (Untouchable)
This multilayered film, based on a true story, seems somewhat bleak at first glance: A black ex-con from the banlieue (Driss) becomes caregiver to a wealthy white quadriplegic musician and former adrenaline junkie in Paris (Philippe). There's not so much a plot as a series of incidents as we learn more about the characters and their personal lives. But the story is secondary to the relationship. The development of respect through humor and the capacity to love is what is so captivating about the movie. The two men help each other forget the handicaps that challenge them both in life.
One of the things I enjoy most about Intouchables is that it tackles topics generally considered politically incorrect. Philippe's attitude towards social norms changes the more time he spends in Driss' company. And vice-versa. I love the commentary — all very tongue-in-cheek, of course — it makes on French society.
Don't analyze the movie too much; simply enjoy it as a film with a big heart. However, even if your French is very good, you may need subtitles to catch the rapid-fire slang.
La Môme, 2007 (La Vie en Rose)
Edith Piaf is the most recognizable voice to come out of France in the 20th century. Her prolific repertoire has roused a yearning love and nostalgia for Paris for generations worldwide. The depth of emotion in Piaf's music came from her tough life experiences. (Piaf means "sparrow," a nickname referencing her diminutive size. ) This non-chronological biopic charts that often tragic life from her birth in 1915 to her death in 1963, at the age of 47.
In La Môme, we witness the Little Sparrow's many heartbreaks and fleeting happinesses as she grows up and gains fame and fortune. Piaf's songs were often autobiographical, bringing an extra level of nuance and poignancy to both the film and the magnificent soundtrack. Marion Cotillard is superb as Piaf. She lives the role completely and absolutely deserved all the accolades, including her Oscar.
Honor what would have been Edith Piaf's 100th birthday this year by watching this wonderful movie. Have tissues at the ready.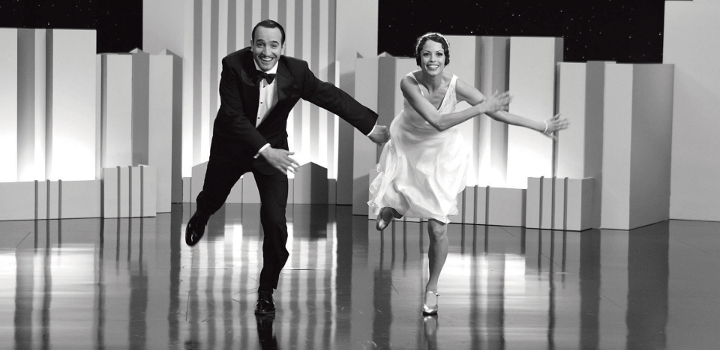 The Artist, 2011
This cheeky, black-and-white, silent movie came out of nowhere (well, France) and swept the awards circuit in 2011. Black and white and silent. In 2011.
While that registers, I will admit that on first viewing I found The Artist to be difficult, long and proud. I didn't finish it. I was in a judgemental, lazy mood and probably should have chosen a romcom that night. But I knew I hadn't been properly receptive, so I watched it again almost immediately — and absolutely loved it. It is fresh, smart, funny and dark. Its originality and wit enchant me with every repeat viewing.
We meet the artist George Valentin at the height of his silent film career and Peppy Miller as she is starting out. All is well until 'Talkies' come around and the industry must adapt. Jean Dujardin, who was known in France for his comedic roles, fills the screen with his expressive presence and pizazz. (With this role, Dujardin became the first French actor in history to receive the Academy Award for Best Actor.) The part of Peppy Miller was written for Bérénice Bejo by her director husband Michel Hazanavicius and she wears it like a glove. George and Peppy sparkle together throughout… and don't get me started on the little dog.
Watch it on a night when you're feeling open-minded. You won't need subtitles.