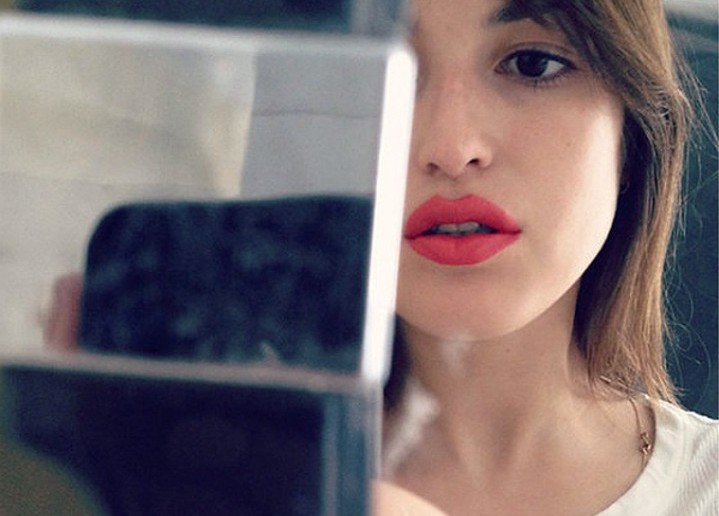 I am a Francophile. J'adore anything French — croissants, striped shirts, Romain Duris, le Comptoir Général, cocktails at le Syndicat and, of course, the French kiss.  As an NY-based makeup artist, one thing I definitely know is that les américaines covet the French look: tousled hair, flawless skin, a perfect pout, all done effortlessly.
The easiest way to achieve that look? Red lips. But don't spend 10 minutes with lipliner, primer, a lip brush, etc. Like we say in the States, "Ain't nobody got time for that!" Applying a sweep of crimson color should take seconds and once you've practiced, you won't even need a mirror.
---
How To
Take care of your skin. You only get one face so make sure you care for it with cleansing, moisturizing and serums. (Check out our Korean beauty article for glowing skin advice — Ed.) For the perfect soft pout, apply lip balm every night. One of my favorites is by Nuxe.
To get that sexy bedhead, wash hair every few days with a cleansing conditioner like R+Co Analog Cleansing Foam Conditioner. Sleep with your wet (or dry) hair in a top knot. The next morning, shake it out but don't brush it.
Remember, no lip liner! Start on the bottom lip with one continuous swipe of lipstick from one side to the other. Then smile with your lips closed and color your cupid's bow. Open your mouth and connect the corners to the bow. Take your finger and tap the lipstick or use an eye shadow fluff brush to soften it.  I love the Cozette pencil brush 220 to diffuse the color.
---
Let Your Inner Frenchwoman Out!
Top Row: Nora wears Ruby Woo mixed with Lady Danger by MAC; Carolina and Jessica wear Dolce & Gabbana in Dahlia
Bottom Row: Sigrun wears OCC lip tar in NSFW; McKenna wears AJ Crimson in No Explanation with Inglot Matte Pigment 86; Anna wears Nars Jungle Red
Feature image via Jeanne Damas. Makeup images via Lavonne.
---
What's your favorite lip color? Do you dare red? Tell us here or on Facebook, Instagram and Twitter. And sign up for our newsletter for the best stories from Paris.