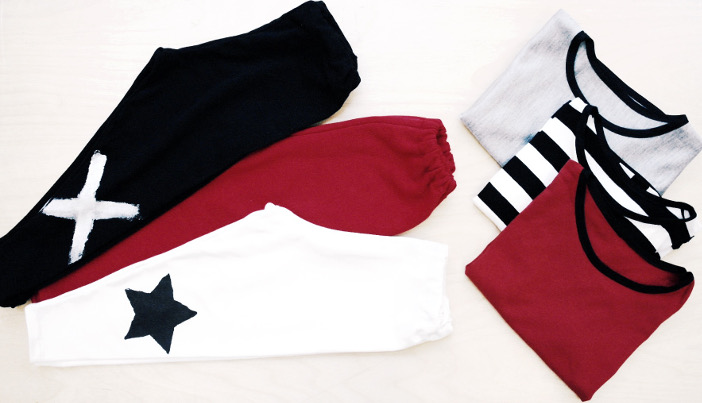 Luka & CO goes live this Saturday, online and in a sweet shop in the Marais. But one lucky LES LOLOS reader will get first dibs on this adorable t-shirt and jogging set (value: €55) for their little one! All you have to do is sign up for our newsletter. The contest is now closed.
If you're already a subscriber, leave a comment below to make sure you're entered! For an extra entry, go to Instagram and look for the adorable Luka & CO picture. Follow us and tag two friends. That's it! The contest is open to US, UK and French residents and ends in two weeks, so hurry!
UPDATE: The winner of the jogging set is Amy Elizabeth!!!
---
True to #BossLady form, when Andrea Knežević couldn't find the clothes she wanted for her son Luka, she decided to make them herself. "I feel like I was the only one complaining about French clothes… You don't see the child [here in France]. My kid is throwing tantrums but I don't see it in French kids. I'm trying to be the best parent ever and sometimes I feel ashamed about how he behaves," she says. "But he's a kid. This is what kids do. So this is when I said I have to make clothes for children. Let them express themselves. They are wild, angry, happy. Let's try to capture that."
The Luka & CO collection is made entirely of cotton with many hand-painted pieces, for ages 0-5. There is also a limited edition piece produced every six weeks as well as a leather line, called Playtime. Andrea insisted on everything being made in France. "We all buy Zara, Okaidi but I wanted to know how it's made, what materials are being used. Even if it's more costly, I told myself I will make it in France and I will have full control. I go every day to see what's been sewn and who is doing the sewing. In the end, it was cheaper than if I had gone through China!"
Part of the proceeds from every sale goes to Bosnian children's charities. Both Andrea and her sister, Ines, who runs the company with her, made helping children in need the first priority when they created their business plan.
Luka & CO
41 rue Volta, 75003
---
To learn more about Andrea, check out her #BossLady profile!