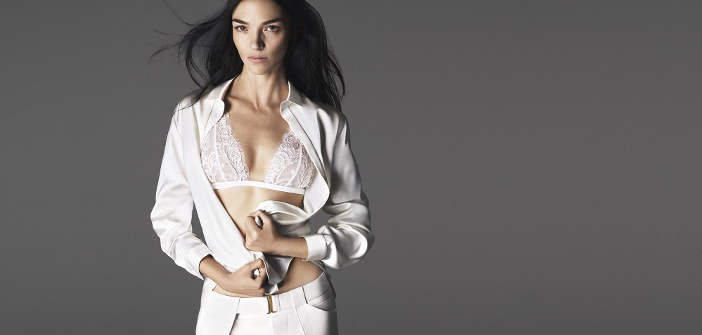 The little girl watches in awe as her mother sits at the dressing table, painting her lips a bright red whilst dressed in a silky lace ensemble. Her mother is beautiful and inspiring and the little girl wants to emulate her.
Fast forward many years and my mother is still a stunning, sexy and elegant woman with not an inkling of vulgarity. She is comfortable with her sexuality and both men and women turn when she passes on the street. Beautiful women aren't that rare so I'm certain it's her confidence that turns heads. She never tugs at her underwear. The pure silk and lace she wears seems to melt over her femininely voluminous bottom. Her message to me was constant:
Confidence comes from within and wearing what makes you feel confident can help you find your voice. And no, the size of your bottom does not make a difference.
I spent my 20s protesting. Everything and nothing, really, but I was—like many young women—capricious and uncomfortable in my own skin. It was the 90s and I worked in a bank. If I listened to my mother and kept my nose powdered and lips painted at all times, while spending half my salary on lace knickers, would my mostly male colleagues find me less serious? I had a boyfriend who was very sure of what he did and did not love. He loved beautiful things. He did not love ugly things. He lavished me with decadent presents, smiling as I unwrapped meticulous packages in which even the bloody tissue paper cost a fortune. I would extract piece after piece of unquestionably indulgent silk and lace ensembles.
One day, I suddenly wanted cotton briefs. I realized I wasn't feeling sexy. And I realized it was about making my own choices. My mom had decided. My boyfriend had decided. Where was my voice?
I kindly suggested that my boyfriend return the box he was extending to me. Furious, he ripped it open and tossed a delicate and absolutely exquisite ensemble right out the window. Along with their predecessors in the drawer. In slow motion, I peered out the window, thinking I would wait a few minutes before rushing to fetch them. A rainbow of lace littered the dirty London street. One bra was hanging off the shoulder of the neighborhood homeless person. Oh, the irony.
Fast forward again and I've embraced my femininity. I experimented with every kind of underwear on the market, including the rebellious-yet-ridiculously-uncomfortable no underwear trend. I determined that I was a woman who felt neither sexy nor confident with cotton underpants sagging at my rear.
I don't traipse about Paris in cocktail gowns and heels. You're more likely to see me running to school pickup in jeans and sneakers. But if you look ever-so-closely, you might spot some tiger stripes (silk, of course) peeking out of my waistband as I bend over to greet my son.
I wear silk and lace because it makes me feel I'm on my own terms, wiggly-jiggly-bottom and all. Whether doing laundry, typing a work memo, or sprawled on the floor constructing Legos, I know that there is another me, another identity that is mine. Uniquely and solely mine.
Image via La Perla
---
Which side of the Lingerie Debate do you fall on? Comfy or Sexy? Let us know in the comments. Here's Maggie on choosing comfort. As for where to buy beautiful lingerie in Paris, check out our carnet.