With all the back-to-school vibes, fall is naturally a time to go on a bookstore (or Kindle) sweep. While curling up by the fire with a good book and a glass of red wine/hot cocoa/pumpkin spice latte is one of those #dreamgoals that remains elusively out of reach (got kids?), reading is one of my greatest pleasures—even if it has to be done during commuting spurts on the metro or in between hurried bites of a solo meal.
As usual, too many books, not enough time, but these are lighting my literary fires this season. What's on your fall book list?
---
Memoir
After reading an excerpt last month, I immediately crossed into girl woman crush territory with The New Yorker staff writer, Lauren Collins. Her memoir about learning French in Geneva is a keenly observed and slyly funny examination of love and linguistics. Lucky for me and LES LOLOS, Lauren now lives in Paris and she's even smarter and lovelier in person. You don't want to miss our wonderful interview with Lauren or her witty, charming book which comes out today.
Journalist Antoine Leiris lost his wife, Hélène, in the Paris attacks last November. Three days later, Antoine's searing open letter on Facebook told his wife's killers they wouldn't have his nor his 17-month-old son's hate: "For as long as he lives, this little boy will insult you with his happiness and freedom." This memoir tells how he and his son Melvil endured in the aftermath of Hélène's murder with hope and resilience. Translation: Shell out for the jumbo-size Kleenex box.
---
Fiction
You're reading this already, right? Because Oprah says! Aside from the Big O, all the people (e.g. POTUS) are raving about Colson's reimagining of the Underground Railroad as an actual train and a young slave girl, Cora's, escape on that train. Colson was one of my MFA professors and he's weird and cool as shit, so I have a soft spot for him—and can't wait to devour this with some beef jerky (see: his previous poker book).
Emma's Donoghue's Room blew me to bits—and I still haven't found the courage to see the film version. Emma's basically my Irish-Canadian Patronus and The Wonder treads the same tight-wire terrain as Room, with a nurse, a young girl and what may or may not be a miracle in a small Irish village in the 19th-century.
This hilarious story about the American Dream won-and-lost and a family road trip—through a Chinese-American lens—is being called one of the best debut novels of 2016. Hell yeah, I'm excited that Asian-American author Jade Chang and her Asian-American book are getting so much attention and praise!
Though it's queued up on my Kindle, I haven't had time to get to Maria Semple's hugely successful Where'd You Go, Bernadette, which is being made into a movie starring Cate Blanchett. By all accounts, Today Will Be Different, about a mother whose plans for a good day go wildly awry, is sharp, funny and bound to be as big a hit as its predecessor.
---
What I Read This Summer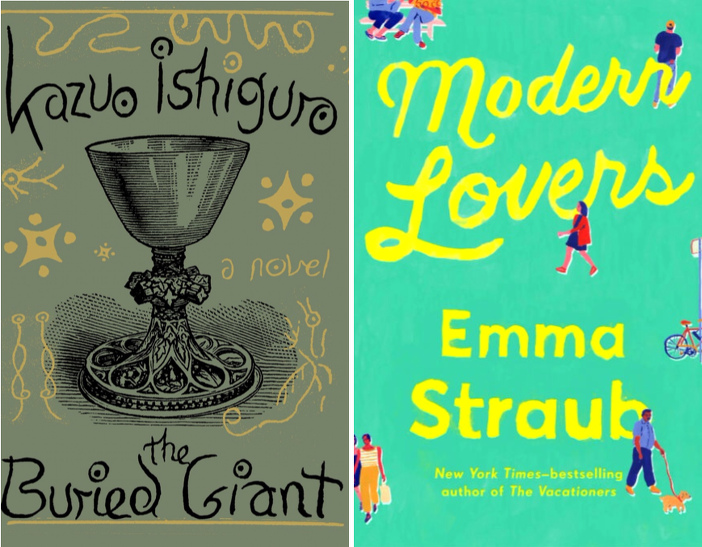 You know when you realize you've read several books by an author and then you realize that author is probably one of your favorites, if only by default of reading so much of them? That's Kazuo Ishiguro for me. I also dig Arthurian tales, though The Buried Giant is set sometime after King Arthur's reign. This is a beautiful, magical, sad story of an old couple on a quest for remembrance and how one defines love.
I downloaded The Vacationers, Emma Straub's previous, acclaimed novel, but started with the more recent Modern Lovers for some reason. It's a very "now" story, set in Brooklyn with adults who are aging out of coolness into middle age. I felt like I should have related to this more, but it was a slow burn. Even when things happened in the plot, it felt leisurely. The stakes didn't seem particularly high. However, by the last quarter of the book, I was somewhat rooting for the characters so that says something.
The Nest
by Cynthia D'Aprix Sweeney
This debut novel got a seven-figure advance. Let that sink in for a second. I read The Nest after Modern Lovers and the urgency of the writing and the plot was like getting into a Ferrari after being in a donkey cart. (I've never been in a Ferrari or a donkey cart.) It's a fast, fun, beach-perfect read. Worth the million bucks, I guess?
I don't even know how this book got on my Kindle but am glad it did. The Song of Achilles is a retelling of The Iliad, from the POV of Patroclus, the lifelong companion of Achilles. As my Greek vacation was winding down, this book popped up and it couldn't have been more well-timed (The Fates?) It's beautifully and simply told and for someone who was fascinated by Greek mythology as a kid but never read Homer, the story feels familiar yet fresh. Plus, there's nothing I love more than reading a book while I'm actually in the place where it's taking place. (Of my summer book list, this one is most appropriate for YA readers.)
---
Here's our Spring Book List in case you missed it. What are you reading right now? Let us know. We love book recommendations! Talk to us on Facebook, Instagram and Twitter because aren't we friends who should be in constant social media contact?