Every night is full-mooned and starry, rouged lips whisper into the ears of dashing French men, and everyone you fall in love with has a flat in le Marais, Montmartre or Ile-Saint-Louis.
Or so we thought. The films we watch about Paris tell one story—of limitless love, liquor and light even through the darkest winter. Doe-eyed babes head to France, looking for an apartment with a perfect view of the Eiffel Tower. We buy black coats, Dior lipstick and burgundy wine… But dog poop-covered sidewalks, smog-filled views and creepy men trailing us through bars make us wonder if we should have based our Paris dreams on Les Miz instead of Amélie.
Here, the 9 lies you learned about Paris from your favorite movies.
---
1. All my food will be beautiful and delicious – Ratatouille (2007)
In order to perfectly depict Paris, the film's director, producer, and some crew members spent a week in the City of Light taking pictures, doing a motorcycle tour, and eating at fancy-schmancy restaurants. The filmmakers succeeded. Paris was perfect and so was the food. Too perfect. Paris isn't all hot omelettes, potato soups, fresh baguette, and ratatouille made perfectly by a rat. Some days you only have 5€ for a sloppy jambon beurre in a paper bag…though it's plausible that was made by a rat.
2. "Paris is at its most beautiful in the rain." – Midnight in Paris (2011)
Owen Wilson makes this claim while walking melodramatically across a bridge. Hypothetically, Paris could be at its most beautiful in the rain, but it would also have to be twilight with softy-lit street lamps and the Eiffel Tower twinkling in the distance. All drainage must be working (no puddles or mud) and it must be a drizzle not a downpour. There should be no honking car horns and my hair must not get frizzy. And this can *only* take place in the 16th, 15th, 7th, 6th, 4th or 1st arrondissements. Paris is pretty in the rain, but a sunny, dry and breezy Paris is so much better.
3. Getting on the rooftop is easy – The Aristocats (1970)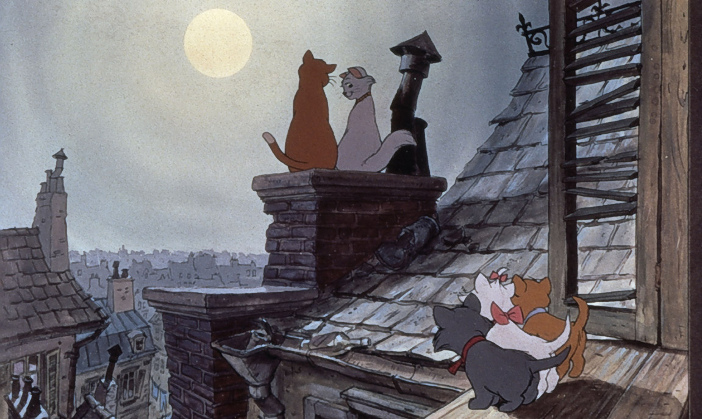 Near the end of the best film about cats ever, the two procatonists of the movie exit through a top-floor window, walk across the rooftop, and sit by the chimneys. The problem isn't that humans aren't as agile as cats, it's that real French rooftops don't have shingles for gripping and they slope at 80 degree angles. So don't try this at home.
4. The Jardin de Champs-Elysées is full of families and lovely people – Charade (1963)
Set in the 1950s, Charade depicts a refined yet dangerous Paris. The most dangerous were fancy hotels and apartments and the most refined was the park. I think the writers had a little mix-up because Paris parks are not refined. Cary Grant strolled through cheerful families, playing children, and couples holding hands. I strolled through through a forest of selfie-sticks, dodged doggie doo-doo, and gawked at a goat eating cutting the grass. Goats are cheap labor.
5. My neighbors will be fun to hang out with – Moulin Rouge (2001)

I never once met my neighbors in Paris. I heard doors closing and occasional footsteps in the stairwell, but I met no one. There were no young people to go out with, no elderly French women dispersing wisdom, no kids to babysit, not a single dog to pet. In Moulin Rouge, Toulouse not only meets but collaborates and takes psychedelics with his neighbors! (Psychedelics aside, I would have loved a similar experience with my neighbors.)
6. When you feel joy and sadness simultaneously, you fall in love with Paris –
Paris Je T'Aime (2006)
In the final scene of my favorite honest film about Paris, an American woman recounts her trip to Paris in choppy French. She says she fell in love with Paris when she felt both joy and sadness simultaneously. After I got pickpocketed at the Place de la Nation metro and had to get a new phone, I felt sadness paying hundreds of euros and joy at having a phone again. But that didn't make me fall in love with Paris.
7. I will love every kind of cheese because it's French – French Kiss (1995)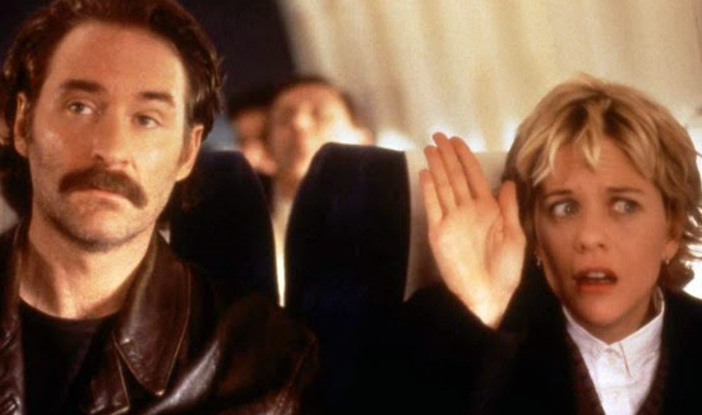 Meg Ryan is Kate, the France-hating, lactose-intolerant woman who goes to France to retrieve her unfaithful husband. Kate tries some French cheese and declares her love for all French cheese! My apologies to France, but not every type of cheese is delicious. Some of it is painfully pungent and can't be tamed with any amount of water crackers. But French cheese stinks the worst after a few days left uncovered in the fridge because—to quote my host mother—"cheese is alive and needs to breathe."
8. A chambre de bonne is spacious, versatile, and romantic – An American in Paris (1951)
A chambre de bonne is a minimalist house in the space of a closet. Gene Kelly's chambre de bonne is the exact type of "roughing it" so many Francophiles dream of. His bed lifts into the ceiling, he's got a big window with a ledge, double doors that lead onto a balcony, and his furniture is mobile and collapsible. A real chambre de bonne is like a nuclear bunker in the attic with inflexible furniture. The legal minimum size is 9.2 square meters or 99 square feet, which seems like significant space until you realize you have to fit your kitchen, bathroom, bedroom, and living space in what is essentially a 10×10 foot storage locker with a slanted ceiling.
Where do I start? Amélie has cool neighbors; Café des 2 Moulins isn't crawling with tourists; random acts of kindness are appreciated; train stations are clean and beautiful; all of Paris exists under a giant Valencia Instagram filter. There's no industrial skyscraper skyline, hardly any people of color, and Amélie has an apartment that is definitely above a waitress's pay grade. All that said, Le Fabuleux Destin d'Amelie Poulain is one of my favorite movies, and if you're reading this, it's probably one of your favorites too. Because despite the dog poo, Paris is still pretty fabuleux, n'est-ce pas?
Originally published at Frenchly.us. 
---
What lies about Paris did you fall for? Share in the comments or on Facebook, Instagram and Twitter. And sign up for our newsletter for the best stories from and about Paris.