Everyone's rounding up the newest fall books so we thought we'd ask some of our editors for their favorite reads (instead of what's currently hot). Check out what Forest, Helen, Lauren and I happily devoured this past year. There's everything from memoirs to lit classics to books for young readers.
Don't miss our spring, fall and YA book lists, too. And tell us your faves!
---
Maggie's Picks
The Course of Love

by Alain de Botton
Philosopher-writer Alain de Botton is my longtime literary crush, not least because he thinks so much (and so clearly) about love and relationships. The Course of Love is both exegesis and roadmap to modern-day marriage and parenthood—charting the difference between real love and the Romantic (with a capital "R") kind. This should be required reading for anyone embarking on, or already in, a relationship with a ring on it.
The Price of Illusion: A Memoir

by Joan Juliet Buck
One of LES LOLOS' favorite writers, Lauren Collins, tipped me off to this memoir by the only American woman to edit French Vogue, Joan Juliet Buck. Buck's world is frothy, privileged and tragic—from her Hollywood roots to her glamorously disastrous love affairs. She has a writer's innate sense of outsiderness, the better to observe her 1% lifestyle. (Pay attention and you'll spot the connection between her and Alain de Botton.)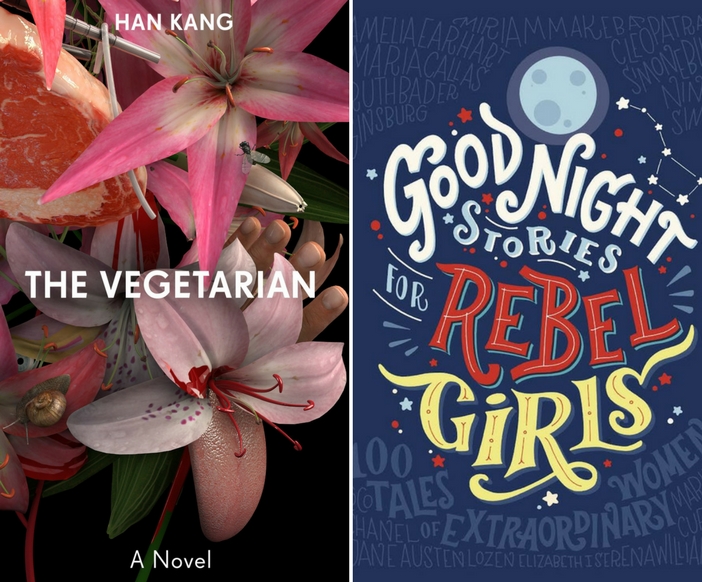 The Vegetarian : A Novel

By Han Kang
I've been wanting to read this Man Booker International prize winner since last year and it was worth the wait. On the surface it deals with a South Korean woman's unconventional choice to become vegan and the subsequent fallout. What struck me is how painful and powerless it is to be a woman, not only in patriarchal South Korea, but in the Trump era. As the US government does everything it can to police women's bodies, is it so unthinkable to imagine being thrown into a loony bin simply for exercising our right to eat what we want?
Good Night Stories for Rebel Girls

by Elena Favilli and Francesca Cavallo
While I'm disheartened by the current state of the world (for women), I remain hopeful for the next generation—and Rebel Girls is a shining light. The "most funded book in crowdfunding history," these bedtimes stories showcase one hundred brave and badass women spanning history and cultures. The stories are engaging and inspiring and the illustrations are simply gorgeous. My daughter and son love this book so much, they each have their own copy. Volume 2 is also on its way!
---
Forest's Picks
Slouching Towards Bethlehem: Essays

By Joan Didion
In this collection of essays, Joan Didion seems to make a great statement about (American?) society and its unraveling. Her work in general has an underlying thread of fear and anxiety. That's one of the things I find most interesting here: Looking back at a "Golden Age" and reading essays about comparatively innocent cultural icons like John Wayne, all with this fine line of tension running throughout.
The Sellout

By Paul Beatty
This Man Booker prize winner was one of my favorite reads over the past many months. Basically, it's a book by a black guy about a black guy reinstating segregation. And some other interesting stuff, too.
Out of Africa

By Isak Dineson (Karen Blixen)
If you want to be reminded how awesome and strong women can be, this book is for you. It's poetic, philosophical, descriptive and romantic. (I mean romance in the grand sense of the word.) We learn about her love life, but in sparse detail compared to the rest of her fascinating stories.
Blood, Bones & Butter: The Inadvertent Education of a Reluctant Chef

By Gabrielle Hamilton
There are some useful life lessons or, at the very least, reminders in this memoir by NYC restaurant Prune's chef owner, Gabrielle Hamilton. Rather than looking it as a manual to get from point A to point B, it's a poignant and uplifting affirmation that no matter where you've wandered on your path, you can still make something beautiful out of your life. (Plus, all your foodie friends are reading it.)
---
Helen's Picks
The Rook
By Daniel O'Malley
The first in a series by debut Australian author Daniel O'Malley, The Rook is a fast-paced sci-fi/fantasy/action/mystery. The second book, Stiletto, is already out and Stephenie Meyer of Twilight fame is working on a TV series based on the series.
What I Was Doing While You Were Breeding: A Memoir
By Kristin Newman
Kristin Newman is a TV writer who's worked on "That 70s Show" and
How I Met Your Mother." Her memoir is Eat, Pray, Love 2.0. She goes to more cities and has more sex.
Rich People Problems: A Novel
By Kevin Kwan
The third book in the Crazy Rich Asians trilogy still has me laughing. I'm supremely entertained by the antics of filthy rich Asian people—and ever so invested in these characters. Can't wait for the movie to come out.
If you ever need perspective on your life, read this memoir by the youngest recipient of the Nobel Peace Prize, Malala Yousafzai. Powerful and moving, Malala's story will inspire everyone, especially young readers.
---
Lauren's Picks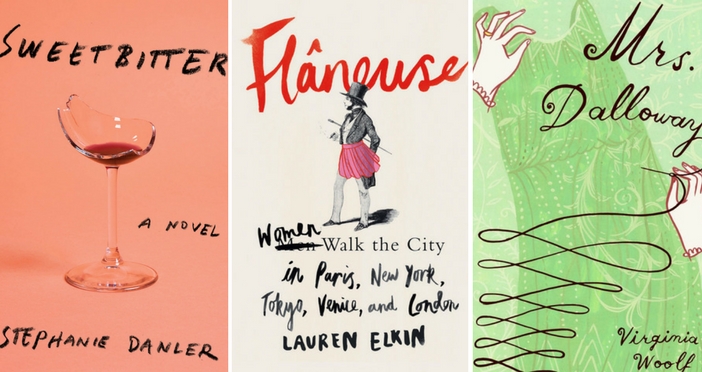 Sweetbitter
By Stephanie Danler
It's 2006. There are no iPhones; Williamsburg is on the precipice of gentrification; and Tess is pounding the pavement looking for a job. Compelling and uncannily relatable, Stephanie Danler's Sweetbitter follows a young woman's sensory awakening after moving to New York City and taking a job as a backwaiter at one of the city's most celebrated restaurants in Union Square.
Flâneuse: Women Walk the City in Paris, New York, Tokyo, Venice, and London

By Lauren Elkin
Lauren Elkin examines the "flaneuse"—the urban woman wanderer—through the works of Jean Rhys, Virginia Woolf, Sophie Calle, Agnès Varda, and others. A blend of academic analysis and memoir, Elkin's work is engaging and especially relatable for women building their lives abroad.
Mrs. Dalloway

By Virginia Woolf
"…what she loved; life; London; this moment of June." Yes! Set on a single day in June, Virginia Woolf's Mrs. Dalloway follows Clarissa Dalloway as she prepares for a party that evening, the narrative dipping in and out of her past.